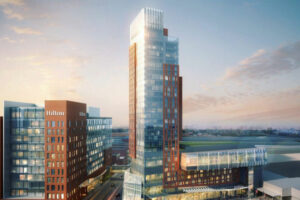 The OLF Conference is a go for 2023, and we are returning to the Hilton Columbus Downtown for a second year! We're looking forward to having another fantastic event educating people about and celebrating Free and Open Source Software.
It will take place on Friday, September 8 and Saturday, September 9 in the new tower of the Hilton. This is located right next to the Convention Center at 402 North High Street in Columbus, Ohio.
We are looking forward to having all of our regular activities there: presentations, the vendor expo, OLF Institute training, Birds of a Feather sessions, not to mention the fabulous afterparty. While our intention is to stream presentations online, we would love to have you attend in person to get the full experience!
This date is not too far in the future, so we have opened the Call for Presentations. Is there a subject in Free and Open Source Software that you'd like to talk about? Maybe you've got experience with a particular tool you want to share, or there's a new project that excites you which hasn't gotten a lot of exposure. If you don't have something yourself, perhaps you know a friend who's an expert that you can point our way. We'd love to hear what you have to talk about, even if you've never given a presentation before!
Note that the deadline for the CFP is noon on Saturday, July 29, so get your submissions in early. If you have restrictions that only permit you to present on specific days or at specific times, please leave us a note in the "Past Presentations" section of your proposal. Contact us at speakers@olfconference.org with any questions.
If you don't want to give a traditional presentation, we'll be doing Birds of a Feather sessions as usual – they were very popular last year, so we're looking to expand these opportunities.
Stay tuned to our news page for announcements about hotel reservations, OLF Institute training, conference registration, and Birds of a Feather sessions. We're excited to see you there!