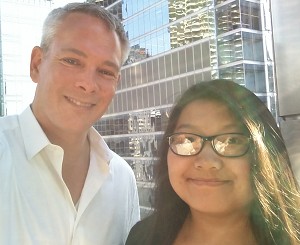 The Ohio LinuxFest is excited to welcome its first father-daughter keynote team! Joe and Lily Born will be sharing their experiences in product development and entrepreneurship with our audience.
Joe founded Digital Innovations to commercialize the SkipDoctor CD repair device, then headed Neuros Technology which produced media centers running Open Source Software. In that role, he convinced Texas Instruments to release a free compiler for its multimedia Digital Signal Processors for the first time (and talked about open devices at the 2007 Ohio LinuxFest!). Joe is now the CEO of Aiwa, a startup that is reviving the iconic stereo brand to produce a line of wireless speakers.
Lily, age 14, is a product innovator in her own right. After noticing the difficulty her grandfather, who has Parkinson's disease, had with spilling his cup, she worked to develop a tip-resistant design called the Kangaroo Cup. With some help from her father, she successfully crowdfunded and has manufactured tens of thousands of cups over the past four years, in both molded plastic and ceramic versions. She has earned numerous accolades, including an invitation to exhibit at the White House Science Fair.
We're sure that Joe and Lily will have lots to share with us about innovation, being open, and working with a community! Register today so you don't miss out.